VA Loans - Let us take the stress out of your next PCS!
Your VA Home Loan: Veterans and Active Duty Military, Thank you for your service and we are here to help you plan for the biggest debt you will ever have.
Welcome to West Coast Veterans!  You are either here now in the state of Washington as a Veteran or Active Duty person or you may have just received your orders to PCS to JBLM, Puget Sound Naval Ship Yard-NAS, or even Whidbey Island.  You may be wondering what are my next steps to becoming a home owner using my VA certificate here in the State of Washington? 
1. Give us a call and tell us know your report date (360) 250-3400 This way we can do some planning around your arrival and if you are already here we can put a plan in place to purchase in the future (Planning early is always essential)
2. Do a full application so that we can go over your LES and financials and pull your VA Certificate and confirm your entitlement (We will take a look at your LES, other financials and a few other things to get you ready to buy quickly)
3. Doing an application will get you fully Preapproved so we can translate your monthly budget into a purchase price to shop in (Know your price range!)  and most agents will want to see you fully preapproved so that you can start shopping and make offers
4. If you know your Real Estate agents name and number share this information with us so we can send them a preapproval letter, and if you do not have one we can recommend professionals that know at each duty station
Since 2001 we have helped our Veterans and Active Duty who have PCS'd to Washington State successfully navigate their VA home loans to buy and refinance their homes.  We have many people who have PCS'D from Germany, Greece, Italy, Hawaii and the contiguous states.   We are an experienced group of professionals, with ties and connections to the military and we work very hard and have fun to help you every step of the way.  Thank you for your service and we look forwarding to serving you in the VA Home Loan department!    
Benefits of VA Loans
You can buy a home with no money down.
You can refinance your home up to 100% of the value of your home.
You never have to pay PMI (Private Mortgage Insurance).
Sellers can pay your closing costs.
They are usually easier to get because the Government insures the loan so that there is much less risk to the lender.
If you already have a VA Loan you might be eligible for a VA Streamline Refinance.
Disabled Veterans may qualify for a waiver of the Funding Fee if they receive any disability payments from the VA or if they are considered to be at least 10% disabled.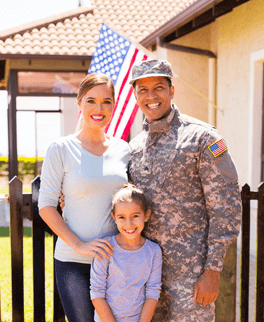 Who is eligible for a VA Loan?
As a rule of thumb, almost all active duty or honorably discharged service members are eligible for a VA loan. (But we always check for sure and upload the necessary documentation from you and to get your Certificate in the even it is not issued immediately)
You may be eligible for a VA loan if any one of these statements describes you:
After October 1st 1980 you need 24 months of active duty (there are exception that can apply)
Having a service connected disability requires 90 days war time 180 days peace time
You served 6 years in the Reserves or National Guard. (We will get your points letter to show enough to obtain your certificate)
I am the spouse of service member who was killed in the line of duty or passed away from complications of injuries that he/she was receiving service for service connect disability.
I currently receive disability payments from the VA. (Dependency and Indemnity Compensation)
What is the VA Funding Fee and is it required?
Yes, it is required. It is a fee paid directly to the Department of Veteran's Affairs so that they can guarantee your loan. (Of course if you are exempted this fee does not apply)
How much is the VA Funding Fee?
It depends on several factors including: Whether you are Active Duty, Retired, Guard or Reserve and whether you this is a first time use, subsequent use, or a cash-out refinance or even a VA Streamline/VA IRRRL as well as how much of a down payment you are putting down. The fee can range from as little as .5% on a VA Streamline, or on purchases 2.3% up to 3.6% of the loan (These can change from year to year and we will update you with current funding fees when we speak).. Generally, the more money you put down the lower the VA funding fee on purchase loans. Please contact us and we will help you to determine what the exact cost of the VA Funding Fee would be for your particular situation.
Do I have to pay the VA Funding Fee out of pocket?
No, you can include the VA Funding Fee in your loan and pay the funding fee over the course of your loan.
Do I still have to pay other normal closing costs like Appraisal, Title and Escrows?
Yes, however with a VA loan if you are purchasing a new home the seller can pay for all or part of your closing costs. But if it's a seller's market, you may not be able to get closing costs especially when there are a lot of competing offers. These market conditions change and we will always keep you apprised of what is happening in the purchase market when you are getting ready to buy a home. On a refinance these fees can be put into the loan and leave you with no out of pocket. We can visit this when we get into your refinance.
What is a VA Streamline Refinance?
A VA Streamline Refinance is a refinance option that is available if you already have a VA mortgage and you want to lower your interest rate with little or no out-of-pocket closing costs. You don't have provide bank statements, W2s, job verification or paychecks and you do not need an appraisal.
Check to see if you qualify for a VA Loan:
---
Thank You!
Your request has been submitted.
---
These materials are not from HUD, VA, or FHA and were not approved by HUD or any other government agency.